A Twinkle in the Eye
October 1, 2021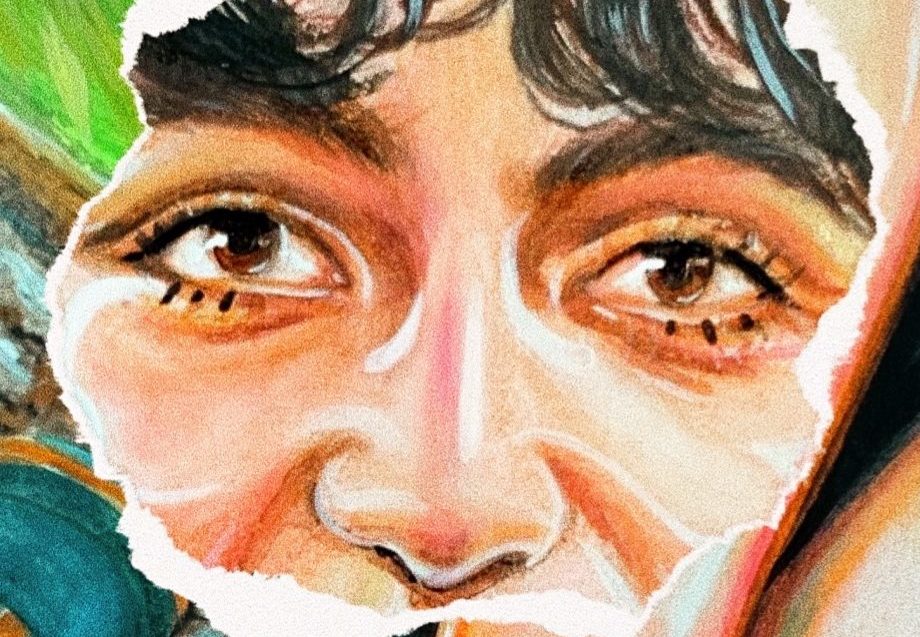 Accompanying text
By Maude Bourassa-Francoeur
The body as a vessel, offered to be seen. Four humans, posing for the observant eye of the artist Sonia Ekiyor-Katimi, are engaged in an exchange, portraits materializing from interviews, life stories, intimacies.
Eyes accustomed to this light will recognize it in the detail of a confident posture, a listening ear, the subtle placement of a body jewel. 
Queerness. A magic spell.
An aura surrounds these humans – subversive by the very fact of living without shame –, perceptible only to those who know the codes.
To hold another's gaze, raising the eyebrow invitingly.
To walk with pride, away from the pressures of heterocisnormativity.
To live in places where language, politics, and morals dictate the limits of one's self-expression and love.
To depart, leaving a piece of yourself behind in order to better embrace another.
To discuss, respond, and expose yourself to the artist who captures bits of you in order to better share them in a new language. That of bright colors, shadows, and lights hidden in the folds of a garment. That of the loving gaze towards a partner, of open hands, of smiles that say: you understand me.
Conversation comes easy, since the artist is also queer. In fact, they left their country of origin where it is criminalized to love who you want and to be who you are.* 
Their brushstrokes cover up the underlying shame, overflowing boundlessly with softness, and with the inner peace of self acceptance. New outlines are traced, new codes emerge – a newspeak where modes of self-expression are limitless and unique to each.
The portraits depict individuals who identify as non-binary, as trans, as lesbians, as asexual, in a state of jubilation, their faces lit up by a compassionate smile. Nothing in these representations suggests the various traumas experienced by each interviewee. Only this vibrant luminosity remains, a testament to the trust and vulnerability that was granted to the artist. And it is this mutual selflessness that is also at play in this residency. Coming into bloom after hiding your true identity. Regaining confidence in others. Creating one's own community. Choosing your family. Exploring new means of self-expression, whether stylistic, artistic, or linguistic.
By choosing to relate these stories through the traditional genre of the portrait, Ekiyor-Katimi nods subverts the history of art, since portraiture was a mode of representation long used by individuals who held (and withheld) power, authority, and money, thus reifying their own status through visual and materials means. Through this work, Ekiyor-Katimi declares: we exist, despite all your attempts at erasure! Let's hope, for posterity's sake, for a future where queer experiences and narratives can take up space and spill out beyond the too rigid contours established by current societies.
*Here, no endorsement of homonationalism, no glorification of Canada as the holy land of the rights and freedoms of sexual and gender minorities — far from it. Transphobia, enbyphobia, lesbophobia, biphobia, and homophobia all persist both in Canadian laws and in mainstream culture. The discriminatory laws of each of the interviewees' countries of origin are mentioned in the interviews; parallels can be drawn with the laws that continue to harm these groups here in Canada, even as new ones are being introduced at the time of writing (hello Bill 2 in Quebec).
Maude Bourassa-Francoeur reads and reviews texts (and writes them, sometimes), directly from her home in Montreal. She is currently completing the DESS in Publishing from the Université de Sherbrooke to read, review and (re) write even more, even better.